Format
This is a 24-hour timed event. It does not share the "last person standing" format of its namesake; instead it is designed to encourage participation throughout the event from runners of all abilities. You have the option to take part in one of two formats:
24-HOUR BLOOPATHON

- Flexible schedule. Run as many bloops as you can within the 24-hour period, at any pace. Try to break the most-bloops-in-one-activity record that is currently only 20. Lead by Daniel Aminzade.

BLOOPING LIKE CLOCKWORK

- Timed departures. One bloop will begin every 72 minutes, for a total of 20 bloops (100 miles). Join for as many or as few as you like. No leader for this one yet, volunteers welcome!
Course Description
Enjoy the beauty of the San Francisco Bay on the BLOOP. Officially known as the Adobe Creek Loop Trail, the bloop is a scenic 5-mile (8km) loop meandering around Adobe Creek, Charleston Slough, Matadero Creek, and the Mayfield Slough. It consists of 1 mile of pavement and 4 miles of smooth dirt, and is extremely flat, with less than 20 feet of elevation gain and loss per loop. It provides opportunities to see a wide variety of waterfowl, including pelicans, egrets, herons, Canada geese, seagulls, and ducks.
Elevation Profile

Location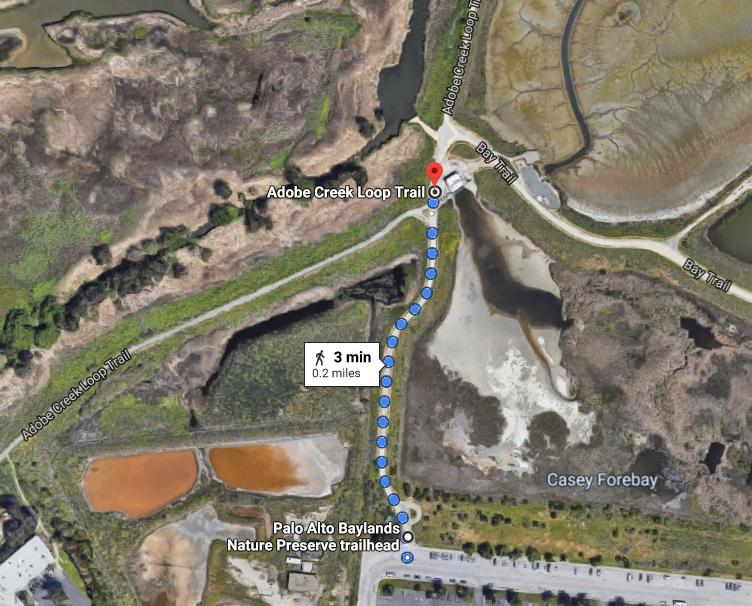 Parking is available at the Palo Alto Baylands Nature Preserve Trailhead, 2690 Terminal Blvd, Palo Alto, CA 94303. The bloop begins and ends just north of the trailhead at the pumphouse.
Scoring
Bloops may be run in the
clockwise
or
widdershins
direction. Your score in the event will be the total number of bloops completed during the 24-hour period in either direction. Partial bloops will not be counted toward your score. You are permitted to leave the course and return during the 24-hour period if you choose.
Schedule
The run begins on Friday evening. It continues through the night and the subsequent day, finishing on Saturday at 17:00. We recommend taking Sunday as a recovery day.
The run will happen rain or shine, and will NOT be canceled in the event of bad weather.
| | |
| --- | --- |
| 4 March 2022 17:00 | START |
| 4 March 2022 18:05 | Sunset |
| 5 March 2022 06:34 | Sunrise |
| 5 March 2022 17:00 (+24h) | FINISH |
| 5 March 2022 18:02 | Sunset |
Registration
If you intend to participate (even for just part of the event),
please register online through UltraSignup
. There is no entry fee. To comply with park policies, the event is capped at 24 entries, making it even more exclusive than Western States, so get your registration in early!
Support and Amenities
This is an unofficial, free, grassroots, fully self-supported event. We will collect and publish results, but there will be no bibs, no chip timing, no awards, no finisher medals, no on-course photographer, and no whining. We do intend to provide one self-service aid station along the course, but recommend you plan to be self-sufficient and provide for your own nutrition and hydration.
Attendees will be able to order an event T-shirt if they choose (design in progress).
Good luck, and expect a lot of fun!